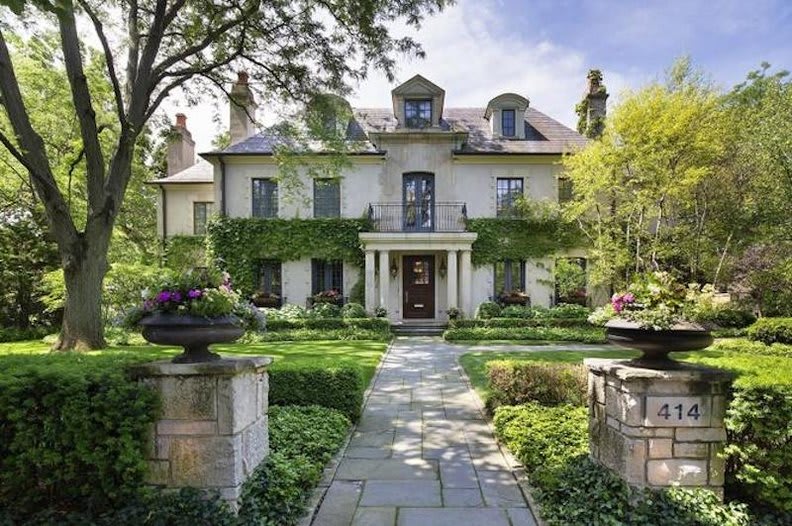 VHT Studios
An executive who sold his
Kenilworth
mansion this week for about 30 percent less than he paid 15 years ago. A career move prompted the sale.
Greg and Mary Shearson, who in January became CEO of Nashville, Tennessee-based Ancient Nutrition, said the company's spokesman that he "happily relocated to Nashville for an exciting business opportunity." Shearson's career has been in consumer products, including seven years of CEO of Merrick Natural Pet Care.
Ancient Nutrition makes nutritional products based on Chinese herb-based medicine and Indian Ayurvedic medicine.
The Shearson's listed the house in March at just under $3 million, starting out well below what they paid for it. The house went under contract to a buyer in September and the sale closed on October 22nd. The buyers are not yet identified in public records.
The house, just a few blocks' walk from Joseph Sears elementary, New Trier Township High School, and the Kenilworth Metra station, has vintage plaster ceilings and picture frame moldings in the living and dining rooms, a two-bathroom master suite, and, according to the listing, "an ESPN-like rec room" with a golf simulator, a workout room, and a brick wine cellar. Outside are a large bluestone terrace and an outdoor kitchen.
The couple is far from alone in selling a North Shore home at well below a past purchase. In December, another CEO sold her Winnetka house for $1 million less than she paid. In September, Aon's board chairman sold a Winnetka home at below its 1993 purchase price.
Numerous other homes in the Chicago area, most but not all in the suburbs, have sold in recent years for less than their sellers paid for them, as Crain's has been chronicling.
Source: Crain's Chicago Business