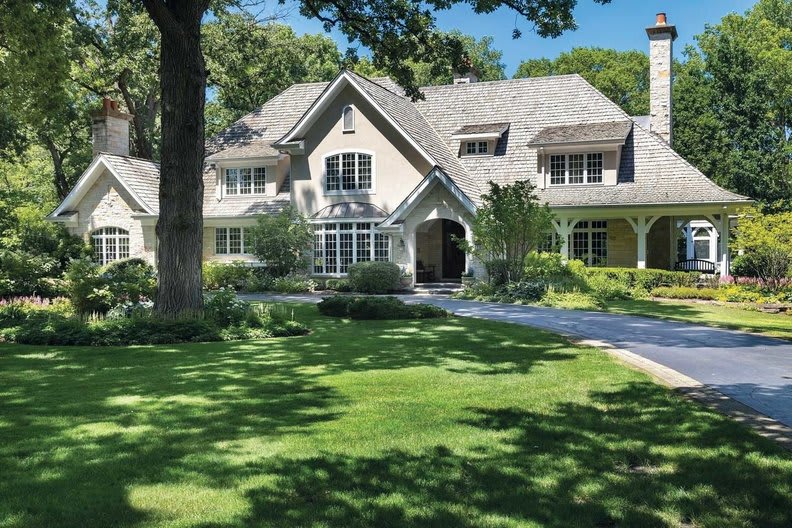 VHT Studios
After years of sluggish sales, houses in the suburbs suddenly are moving fast.
When a 10,000-square-foot Glenview house with a pool on an acre and a half came on the market in early May, listing agent Lyn Flannery soon began taking calls from interested parties.
The house went under contract 40 days later.
That's about one-third the average time Glenview homes took to sell in the first seven months of 2020, according to data released Aug. 17 by the Chicago Association of Realtors and Midwest Real Estate Data. The sale closed Aug. 14, at $2.56 million.
All over the suburbs, homes have been selling quickly, at assorted price levels. Chicago-area sales were up 12 percent this July versus last July, compared to a nationwide increase of 8.7 percent. Agents say it's the result of a long-lingering pandemic that has people realizing their homes are too small and have too little outdoor space to suit the new all-at-home lifestyle that the crisis has prompted. Epochally low interest rates that allow people to get more house for their money are also a big factor.
Despite a perception that residents are forsaking Chicago and other cities for the suburbs, "it's really that they have been in lockdown and they've seen they need more space," says Marty Walsh, a Dream Town agent. He's recently represented homes in Wilmette and Winnetka that each landed buyers in less than three weeks.
"We don't think they're fleeing the city," Walsh says. "They're changing to meet this new normal, where everybody's working at home and the kids are doing remote learning. They can't do all that where they've been living."
Early in the crisis, "we thought it might be a few weeks," says Maria DelBoccio, an @properties agent in Arlington Heights. Now that it's lasted five months, a new school year of remote learning is dawning and many adults are still working from home, "people are ready to make permanent changes," she says.
With Twitter,
Google
and other big tech companies telling people they can work at home pretty much forever and other office workers being told they can come into the office only two days a week, "commuting becomes less important. So people will think, 'Why don't I buy a larger-sized house in the suburbs?' " said Lawrence Yun, chief economist and senior vice president of research at the National Association of Realtors, speaking at a Chicago Association of Realtors event Aug. 20.
Yun suggested this is the third big wave of city residents' interest in suburban homes, after the wide adoption of cars in the 1950s and fear of crime in the cities in the 1970s.
At Zillow, house hunters have made their desire for more space clear. In July, according to Jeff Tucker, an economist with the online real estate marketplace, the share of searches for homes in the 1,000- to 3,000-square-foot range declined by almost a full percentage point from July 2019, while at 3,500 to 5,500 square feet, the share increased by about half a percentage point.
That translates to at least 5 million more searches for big houses in July from a year ago. The need for space at home "is heightened right now," Tucker says.
DelBoccio's office represented a house on Chicago Avenue in Arlington Heights that was on the market for four days before selling for $971,000 in mid-August and one on Stratford Road that sold in three days for $650,000, a little more than $50,000 over the asking price.
Though examples of fast suburban sales are legion, the bulk data doesn't yet show it. In the end-of-July data from CAR and MRED, most suburbs show slower or unchanged average market time compared to a year earlier. But most sales that closed in July would be from contracts inked in previous months, when the crisis was in an earlier phase.
TIGHT INVENTORY
Fueling the fast sales is the lack of inventory at a time when buyers are stalking the market. Some potential sellers may be loath to move during a pandemic or may fear having potential virus-carrying strangers walk through their homes, says Lynn Briskin, an @properties agent in Evanston.
"Everything that looks good sells super-quick," says Danielle Moy, an @properties agent in Orland Park. "If it's priced right, it sells. If it's not gone in a week or two, that means it's overpriced."
Moy represented a 2,200-square-foot house on Potawatomi Trail in Homer Glen that came on the market in June at $355,000, attracted multiple offers and was under contract after four days. It closed at $356,000, or $1,000 over asking.
At some point, things likely will return to some version of their old way of operating, but Aaron Renn, an urban policy researcher based in Indianapolis, says the shutdown state of mind may remain.
"With any disruption in life, you say to yourself, 'I'm never going to make this mistake again,' " Renn says. "Next time I'll be prepared." Thanks to this year's crisis, he says, "we've spent an extended period of time at home, thinking about what if this happens again."
Source: Crain's Chicago Business