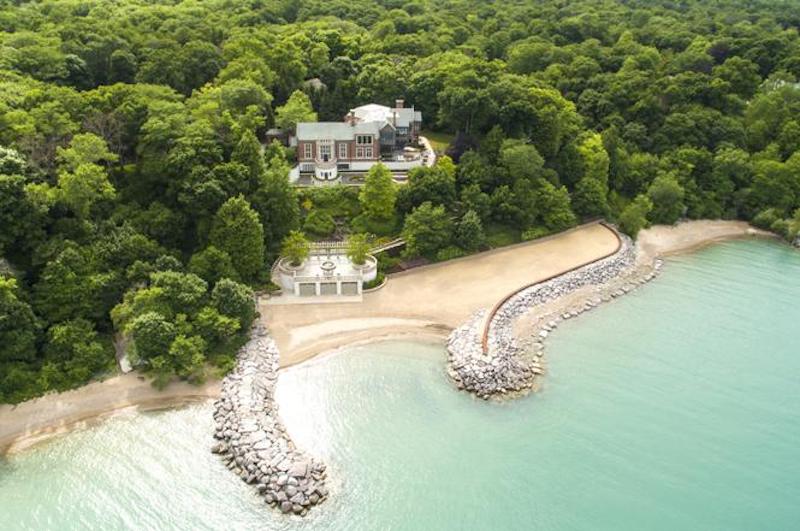 Berkshire Hathaway HomeServices KoenigRubloff
A lakefront mansion in
Lake Forest
that includes historical and 21st-century sections came on the market yesterday priced at $12 million, the second-highest current asking price for a home in the town.
The property, 2.7 acres at the end of Stone Gate Road, has 400 feet of Lake Michigan beach. The 8,800-square-foot house contains a castle-like great room designed in 1928, according to the listing, and a six-bedroom home built around it, completed in 2001.
Thomas and Connie Duckworth, who according to Lake County public records own the home, are a pair of retired Goldman Sachs executives.
The $12 million asking prices is even the highest sale price ever recorded for a Lake Forest home, which Crain's reported in July. The Chicago Tribune recently reported the buyer was Nancy Hughes, widow of filmmaker John Hughes.
The highest-priced home on the market in Lake Forest is a few doors away from the Duckworths' house but has no Lake Michigan frontage. That 9-acre estate on Mayflower Road came on the market in July, priced at $15 million. The price has not changed. In the next town north, Lake Bluff, an estate is priced at $19.5 million.
According to the listing agent from Berkshire Hathaway HomeServices KoenigRubloff Realty Group, the Stone Gate Road mansion's great room was designed by Alfred Granger, who was the architect, along with Charles Frost, who designed more than 200 buildings for railroads, including depots in
Lake Bluff
, Lake Forest and downtown
Chicago
. The last, the Chicago & North Western terminal, was torn down to make way for the Ogilvie Transportation Center.
Stuart Cohen, a prolific modern-day architect and a principal at Evanston firm Stuart Cohen & Julie Hacker Architects, designed the new portion of the house, according to the listing.
Photos in the listing suggest the historical section contains more than only the great room; a lavishly paneled dining room appears to be on the same vintage, although, without comment from the sellers or agent, it's not certain.
The homeowners also re-engineered the lake bluff, a five-year project that included creating a terrace on the roof of a 2,500-square-foot shore-level boathouse.
The Duckworths' could not be reached, and the listing agent did not respond to a request for comment.
Source: Crain's Chicago Business