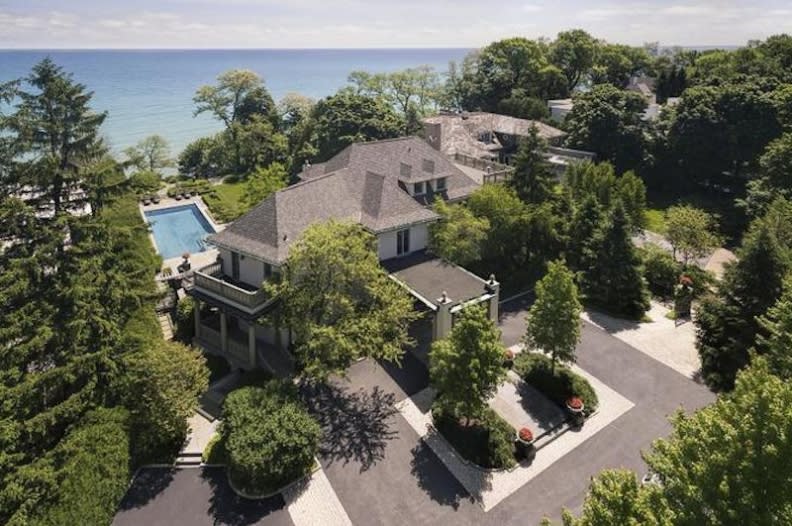 Baird & Warner
The Egandale Road property is also of a high-end sales boom that is running more than 40 percent ahead of the total for 2017.
A 99-year-old lakefront mansion in Highland Park sold on November 29th for more than $1 million less than the sellers paid for it 17 years ago.
The 19-room house on more than two acres at the end of Egandale Road sold for $4.2 million. Sellers Tim and Meg Callahan paid $5.3 million for the property in 2001, according to the Lake County Recorder of Deeds, but used a trust that concealed their names. After their purchase, the Callahans spent an additional, undetermined amount on renovations.
The Egandale Road mansion is emblematic of two storylines in the upper-end real estate market this year: It joins a long series of mansions, mostly on the North Shore, that have sold for below their year-ago prices. At the same time, it's part of a boom in sales at the top of the market. It's the 67th Chicago-area home to have sold for $4 million or more so far in 2018, compared to 46 in all of 2017.
Tim Callahan is the CEO of Chicago-based Callahan Capital Partners. Neither he nor Meg Callahan could be reached for comment.
The Callahans listed the home, which sits on a finger of land that has Lake Michigan to the east and wooded ravines to the west, for sale in October 2017, asking $6.9 million. They subsequently cut the price four times, landing at $4.75 million in early October. The house went under contract to a buyer four days after that price cut.
"The market is the market," the listing agent of Baird & Warner, said of the discounted sale price.
The home went for the highest recorded sale price in Highland Park since August 2015, when a blufftop home on 4.5 acres went to nearly $10.9 million. The listing agent said that the home is an outlier (one of only three in Highland Park that has ever gone for $10 million or more). Under $10 million, the last time a Highland Park home sold for more than yesterday's Egandale sale was 2011, when a house on Sheridan Road went for $5.1 million.
The Egandale house has 15 rooms, and on the property are an outdoor swimming pool, an electric tram down the lake bluff, and 110 feet of beach.
On the same block as this home are two of Highland Park's highest-priced homes, one that sold for $9.8 million in 2006, and a new home, recently completed, whose total cost Crain's estimated at least $9 million.
Another North Shore mansion, on Ridge Road in Lake Forest, sold in August for $ million, less than two-thirds the $6.1 million the sellers paid for it in 2006.
Source: Crain's Chicago Business