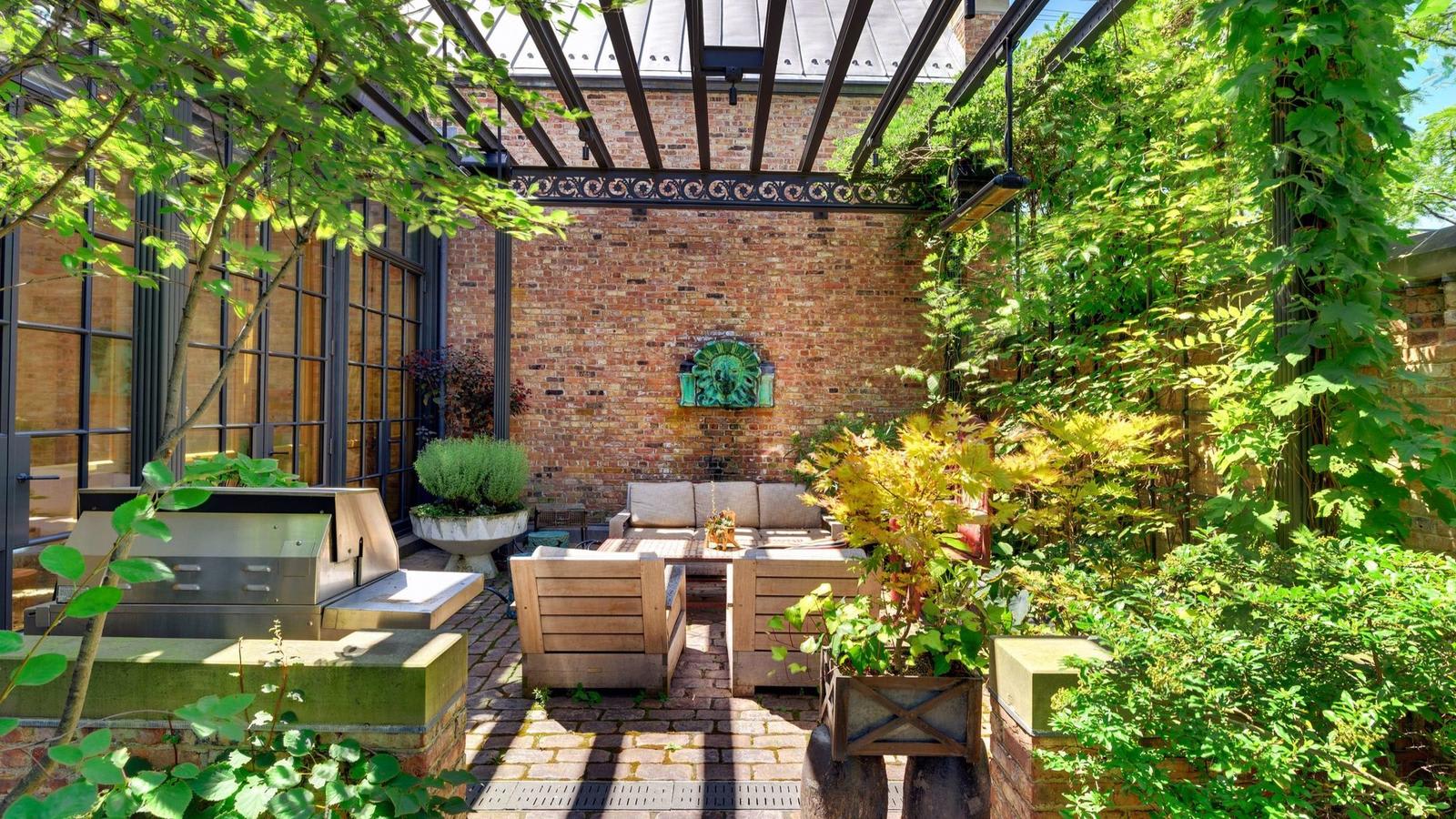 The five-bedroom Lincoln Park mansion is listed for $8.95 million. (@properties)
A five-bedroom, 7,800-square-foot mansion made of exposed brick and industrial metal in Lincoln Park listed Monday for $8.95 million.
Built in 2010 and designed by Chicago-based Liederbach & Graham Architects, the house is owned by Novak Construction founder John Novak, who also was the contractor for the mansion. Set on a 45-foot-wide lot, the mansion is set back from a walled garden, and the entire first floor of the mansion opens to the outdoors.
Features include 6½ baths, three fireplaces, steel Hope's Windows, a 900-bottle wine cellar and tasting room, a recreational room with a sauna on the lower level and an attached three-car garage with a brick floor. Above the garage is a guest suite with a full kitchen and living room.
Listing agent Emily Sachs Wong of @properties called the mansion "classic Chicago," and noted that Novak modeled the home's exterior on an old warehouse in the neighborhood. The interior, however, is "really modern," she said, with "very clean lines."
"It is one of the coolest homes I have ever been in. It is ridiculously high-end inside, with finishes that are not typically done in the city," she said. "It is one of the most private, beautiful houses in Lincoln Park. It's just like a secret garden behind the wall. The house was set back to allow for an open feel, with lots of light."
Wong said that Novak, who did not immediately respond to a request for comment, is selling because he "doesn't need as large of a house right now."
"It's really a find for the next owner," she said. "There's nothing else like it in the city."
The mansion is one of the highest-priced active listings in Lincoln Park. The only higher-priced current listing of a house in Lincoln Park is a $9.9 million listing for a 10,000-square-foot mansion on North Wayne Avenue that also was designed by Liederbach & Graham. However, that mansion is only available for $9.9 million including adjoining land that has an income property on it; without that adjacent parcel, that mansion is available as a stand-alone for $8.5 million.
Click Here
to view more photos of 1970 N Burling Street
Source: Bob Goldsborough